This research was conducted as a self-study by three students in the department of Information Science and Culture. As one of them, I participated in the whole process of research and development for 4 months. (July to October, 2016)
The study aims to improve user experiences in CPR training. We set the target user as people who are getting retraining, so that they can be remind on how to conduct CPR more effectively.
It is designed to help participants decide whether the CPR is needed or not in particular situations.
For example, There are three situations: drunken, epilepsy, and cardiac arrest.
Participants should do CPR only when the manikin is on cardiac arrest situation. If he/she does CPR when the manikin is in a drunken or epileptic state, the device will die. Also when the trainee makes a good choice and then does CPR, whether he/she pressed the chest appropriately will be checked (in matters of both depth and speed). In case of success, the manikin will be revived and its face becomes bright with a burst of applause. X)
---
Components
CPR manikin, 2 Arduinos, Arduino-music-maker-shield, LED, pressure sensor, speaker
Description
LED : is for showing manikin's face color - dark when it is dying, bright when being saved, flushed when revived
Pressure sensor : is made up of the velostat(conductive fabric) with foil for covering the area of manikin's chest
Sound systems : 3 status of manikin(drunken/epilepsy/cardiac arrest), 2 kinds of 100bpm music during CPR, error sound(died), applause(success)
Design Structure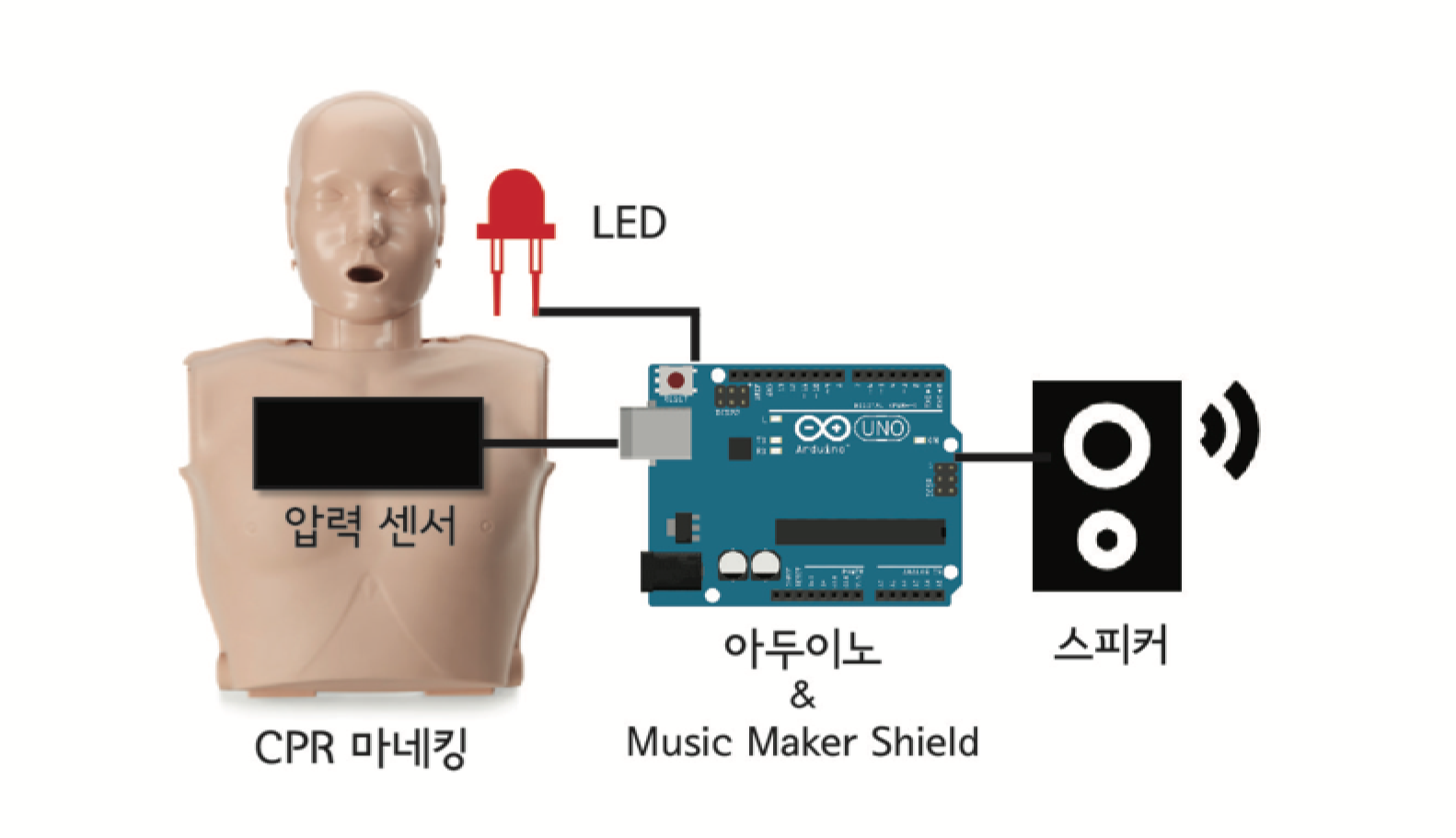 Pressure Sensor : inside the chest of manikin
LED : attached on the cheek of manikin
Sound Shield : attached on the Arduino board to play sounds
Connect all things : Arduino board, Pressure Sensor, LED and Speaker
Installation
Demonstration
Storyboard
The user approaches the Manikin.
Listen to the sound of the Manikin,
determine whether it is epilepsy, dead drunken or cardiac arrest.
If the situation is epileptic or drunken, do not take any action.
If the situation is cardiac arrest, perform CPR 100 times.
Music of 100bpm is played when CPR begins.
Successful CPR would get applause.
If CPR doesn't last more than a few seconds with due to insufficient pressure or strength, get failure with the sound of dead.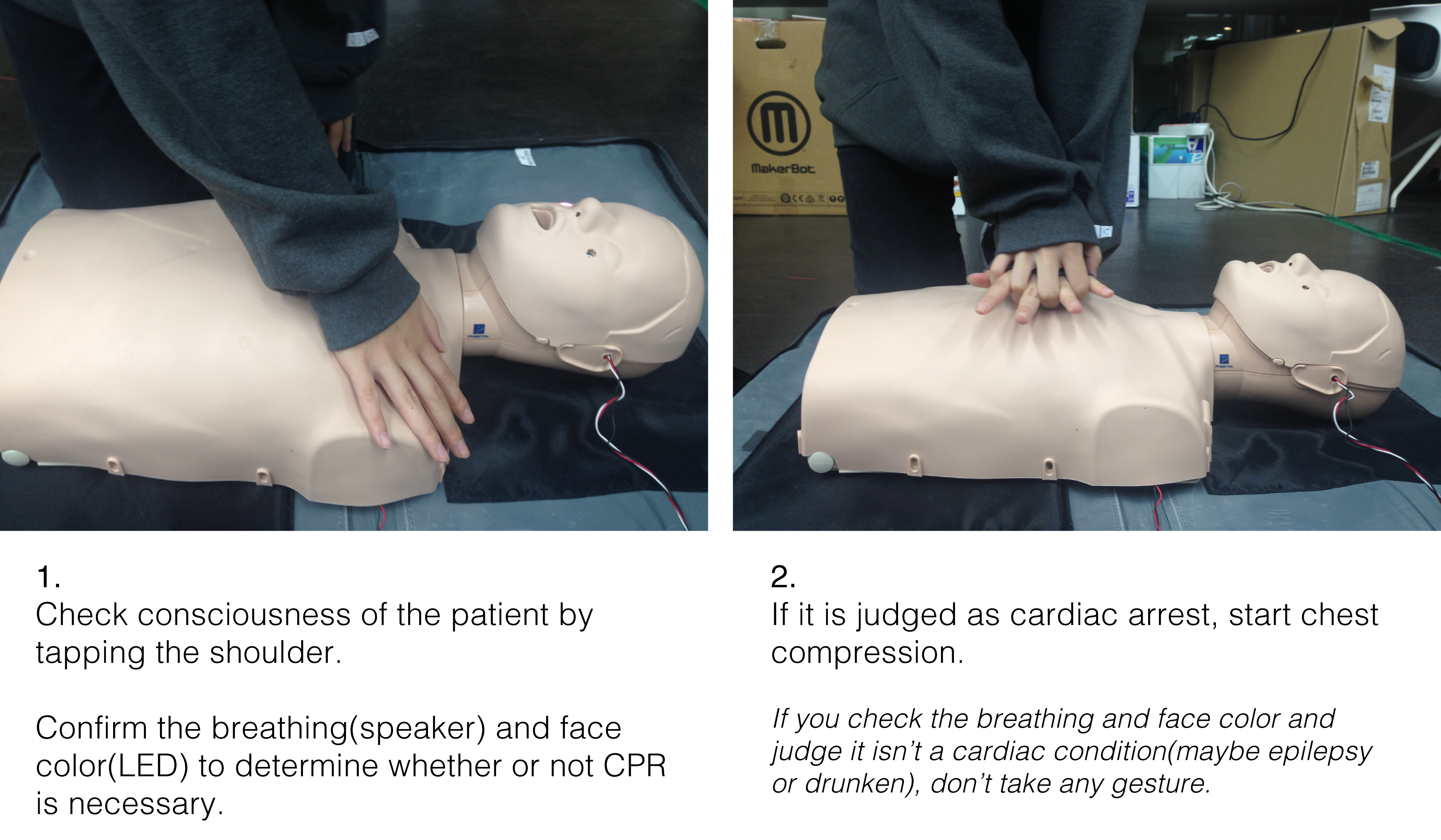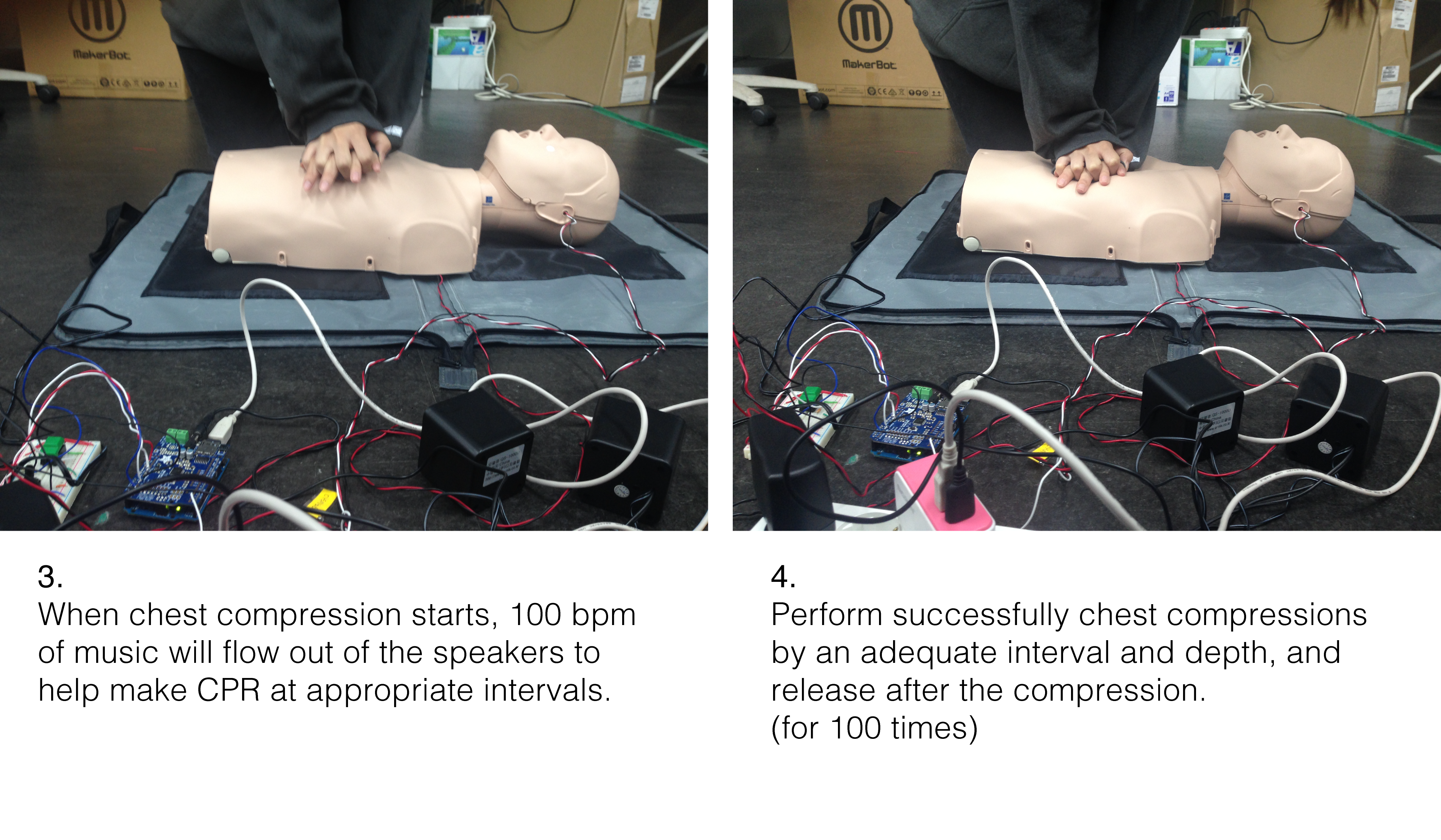 a. off LED : before the incident / dead
b. white : epilepsy
c. purple : cardiac arrest
d. light red : dead drunk
e. strong red : successfully cope with all the situations including CPR
Source Codes

Arduino source code 1: Setting sound systems and the status of manikin
Arduino source code 2: Setting the LED color for the face of manikin
Arduino source code 3: Setting the pressure sensor of manikin
---

You can see the research report(Korean) here.
Here is our Github repository.